Early Years
Born in Stoke on Trent 1958, Tanya grew up in the Sussex Countryside, attending Lewes Priory School, finally moving to her Mother's favourite Seaside resort - Brighton in her teens.
Working across Europe, Middle East, Afghanistan & India.
Studied at Aberystwyth University 1977 & graduated in Theatre Studies Dartington College of Arts in 1983.
Dartington Training formative. Physical Theatre, Contact Improvisation, Devising, Site Specific & Social Activism.
1982 - Barricade of Flowers (Genet) with Blood Group (Artistic director - Anna Furse & co performer Suzie Gilmore) first european theatre tour as stage technician.
1982-84 Greenham Common activist, Greenham Common & Greenham House in Islington; during which she collaborated & produced with Common Ground, "The Fence" published by Methuen in 1985.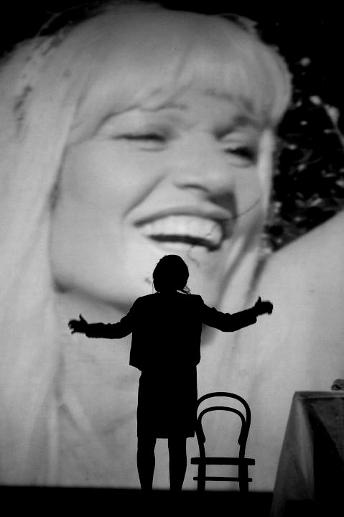 1984 Lily born (Lily Lowe Myers)
1985 Meeting Ground Theatre Company launched, funded by Arts Council of Great Britain: Leaves London with playwright partner Stephen Lowe, creative administrator - Stephen Mapp, Puppetess - Jo Buffery & Director/Actor - Bush Hartshorn: Based in Risley in Derbyshire before settling in Mapperley Park, Nottingham.
Meeting Ground Theatre: www.meetinggroundtheatrecompany.co.uk
Meeting Ground productions evolve from extensive research/ workshopping in collaboration with participants both local & international. Tanya is co-producer & performer for Meeting Ground Theatre productions 1985-2020.
Strive - written by Stephen Lowe (Girl)
Desire - written by Stephen Lowe (Poppy)
Dance for the Girls devised by Tanya Myers and Tamzin Griffin (performance exploring ancestral possession - inspired by 1986 International Women's Magdalena Festival* (see notes) Workshops in Cardiff, Wales led by Creative Director Jill Greenhalgh.
Pushing On -devised by Tanya Myers and Tamzin Griffin - large scale street choreography for pushchairs and wheelchairs
City of Women - TV Workshop Director & TV Presenter for Central TV Documentary about Women Workers in Nottingham's Textile Industry - Lace Market. Producer Steve Engelhard.
Demon Lovers - written by Stephen Lowe (Dawn)
Paradise the Musical written by Stephen Lowe. Music by David Wilson / directed by Pip Broughton/ co-production Nottingham Playhouse Re-evaluation of Luddite Movement. (Elizabeth)
SCI - 'Rendez Vous' established at Blanes - France: 1991 Ulrike Johannson (Germany), Rebecca Simpson (Spain), Tanya & Stephen share responsibility for this remote hameau, host to artists, workshops, films & creative gatherings for future decades
The Sale of the Demonic Women directed by Zofia Kalinska, based on writings of Witkiewitcz, (National & European Tours 1990-1993) (Zofia D'Abercerage)
Plaisir's D'Amour directed by Zofia Kalinska, based on writings of Ronald Duncan/Oscar Wilde (Heloise/Salome) UK Tour/ Edinburgh 1st Award - based on medieval story of Abelard & Heloise, tours of Poland, Germany, Britain (1992- 1993)
1994 - Martha born (Martha Myers Lowe)
Fallings Angels written/ directed by Tanya Myers - rehearsed in France (1994) UK Tour (exploration of sexual identity/marriage)
1997 - Family Marriage - Tanya Myers & Stephen Lowe at Elvaston Castle - celebration of friendship
Florence Remembered - Devised theatre with mother (Pearl Myers) & daughter (Lily) - tribute to 4 generations of women, exploring effects of family suicide. (*Feminist Theatre Practise by Elaine Ashton published by Routledge)
Shoes devised / performed with eldest daughter Lily - Exploration of suicide with age roles reversed between mother and daughter. Directed by Tom Wright. During rehearsal of this show - Arts Theatre Studio Nottingham was reinstated by designer Steve Grainger.
Story Chair' - a community project in direct response to 9/11 embraced local Carrington Primary school. Children invited to interact with an Alien Chair's mysterious arrival into their playground. Over time, children were encouraged to find The Chair a home, inside their school, creating an intimate environment congenial to sharing of stories between ages, ethnicity & faith. (Project documented by local film makers & children themselves).
Small Waves - Written & performed with youngest daughter, Martha (12yrs) - Directed by Tom Wright. Inspired by refugee friendships, explores question of exile and post trauma. In Spring 2006 Tanya & daughter Martha travelled to Canada to perform "Small Waves" at Methodica Theatre in Vancouver. The Play received a powerful & moving response from audience familiar with reality of transmigration and loss.
War Stories Project - a collaboration led by Jonathan Chadwick leading to the birth of his new company AZ Theatre.Stephen Lowe, Jonathan Chadwick, Tanya Myers travelled to Sibiu in Rumania to workshop with theatre companies from war torn countries from Palestine, Serbia & Algeria/
Sail Away - written in collaboration with her dying Mother. It explores 'a journey to eternity & back': embracing fears of aging process. Play is currently in progress.
Kiss and Waste - a collaboration with Norwegian artist Anne-Lise Senseth. Audio visual site specific touring the North Seas. Tanya contributed imaginary letters written between mother/daughter and grand-daughter about issues surrounding death. Anne Lise's work explores inner/outer space, reflecting upon personal struggles and political transitions in Europe.
Inside Out of Mind - written and directed by Tanya Myers - full length play in response to Nottingham university's SDO/222 assignment from the Dept of health : 'inpatient care for people with dementia: implications for person centered practice.' A co-production between Lakeside Arts Centre & Meeting Ground - The Play won National Lottery Prize after two successful tours focusing on NHS Audience. Designed by Nettie Scriven, Digital scape by Barret Hodgson, Sound Design by David Wilson. The Live Recorded Film - Inside Out of Mind (Caravan Films) can be seen at NHS Cinemas and Care Homes for training purposes.
NOTE: *Magdalena International Womens Festival*
From 1986 onwards,Tanya participated in Magdalena workshops in Italy, Poland, Denmark and Wales, greatly inspired by fellow international women artists. She continued to share her own company work in these forums. During a meeting with Zofia Kalinska at Medea Workshop in 1988 (seeds were sown for creative collaboration with Meeting Ground Theatre for 20 years - Zofia Kalinska was leading actress for 20 years with Kantor's Cricot 2 Theatre company-based in Krakow Poland (Performances including 'Dead Class')
Falling Angels, Florence Remembered, Shoes, Small Waves & Sail Away: form body of work focused upon "The Family" in both literal and metaphorical capacity. Tanya refers to these four feminist performance art works as 'Rites of Passage' Plays.
During Covid Lockdown:
The Red Door
Stephen Lowe wrote a poem -The Red Door about isolation & raging Commissioned by Lakeside Arts, Tanya Myers wrote film script to incorporate Stephen's poem and neighbourhood participation. The Red Door is about a recluse reconnecting with the beauty of Being. Filmed on a basic mobile phone, it became a firm Favourite of Lakeside Nottstopping Festival.
https://youtu.be/bTQO7g7GXSo
Kindred Spirits. Theatre for the Over 60's
Tanya Myers & Stephen Lowe were asked by ArtSpeak to trial a Theatre Collective to explore joys of theatre language with elder folk, both with & no past theatre knowledge. When Covid struck, the group discovered inclusive ways to continue improvising, developing online weekly creative missives. This work looks to develop Virtual Diary, Film Script and Documentary
ACTRESS:
1987-1994 - Derby Playhouse
Touched (Betty) by Stephen Lowe, Artistic Director Annie Castledine
Sunday's Children (Lona) by Gerland Reinshagen, Artistic Director Annie Castledine
Masterpieces (Rowena) by Sarah Daniels directed by Brigid Lamour
The Tales of Robin Hood" (Robin Hood) written by Alan Drury, Artistic Director Annie Castledine
1993 - 2011 - Nottingham Playhouse performances include:
Paradise the Musical - (Elizabeth) directed by Pip Broughton
Crimes of Passion - (Phasie) directed by Pip Broughton,
Teeth Like Razors Musical - (The Jewish Wife) with Cathy Lesurf/Curt Glanz; Brecht/ Music by Weill & Eisler (2 UK Tours)
Children of the Crown - (Queen) written by Nick Wood, directed by Andrew Breakwell
Tom's Midnight Garden - (Mrs Bartholomew) Written by Philippa pearce, directed by Andrew Breakwell.
Glamour - (Connie Partridge) written by Stephen Lowe, directed by Bill Alexander at Nottingham Playhouse: Connie- ex- girlfriend of the Kray Brothers, is hiding out with peripheral gang member, Frank, in a seedy 1960's Arts cinema in Nottingham, the Moulin Rouge. The extraordinary thing about this play, as wild & at times farcical, as it seemed, it was based on true facts. A pseudo 1960's 'naturalist film' is incorporated into the play, featuring a naked badminton game! Filmed by Roger Knott- Fayle.
UK/ International Theatre
The Promise (Beth) Musical by Cathy Lesurf - UK Tour
Mobius Twist (Sarah) Musical by Cathy Lesurf directed by Tony Bellicom - Beth Shalom
The Difference Musical by Michael Wilson & Gary Southwell (Curt Glanz) - Lakeside Theatre
Quarantine by Ben Payne directed by Bill Alexander (Martha) - Birmingham Rep
The Fox (Ellie) written by Stephen Lowe directed by Maggie Ford produced by Tangere Arts (UK Tour)
The Rain Has Voices (Helen) written by Shiona Morton,directed by Chris Fogg, produced by Take Art. This production launched Somerset's New Writing Theatre Touring Company for Somerset & Devon.
Don Juan Who? (Don Juan) Anna Furse- artistic director of Athletes of the Heart: an exciting European cyberspace improvisation, exploring the legendary Don Juan, an icon of male sexuality. Anna Furse directed in Slovenia, as a co-production with Mladinsko Theatre Ljubljana. European Company joined this extraordinary project, improvising anonymously, every Sunday evening for one year, in Cyberspace 2006-7. Don Juan Who - opened in Ljubljana, performed in 3 languages; Slovene, Italian and English. Previewed in UK at London Shunt Studios October 2007 & Premiered at the FeEast Festival in London, at the Riverside Studios in Nov 2008.
SMILE (Deborah) written by Stephen Lowe, directed by Matt Aston premiered at Lakeside Theatre. Performed together with Dan Copeland. A drama of dark suspense based on war photographer. Stephen Lowe wrote SMILE, inspired by, and as a contribution to, the War Stories Project. (see above) Developing creative collaboration with Digital Media Designer, Barratt Hodgson
The Thrill Laboratory - (Nurse Nytter) directed by Brendan Walker. Nurse Nytter aide to salubrious Dr Bren-Dan Dare monitors physiological responses of cinema audience 'patients' as they view horror films. (Theatrical/ scientific experiment at Mayhem Film Festival at Broadway Media Centre in Nottingham)
FILM:
* TRIBUTE to Nottingham Film-Makers: Thanks to the perseverance of a generation of film pioneers in and around Nottingham, technical/production and script training through Intermedia, and development of the Broadway Media Centre, Nottingham became an exciting place, to be connected with new film work, or involved in improvisation/ development. During these years, collaborations with actors, writers, directors, teachers are too numerous to thank. They include: Roger Knott Fayle, Dina Smiles, Mark Davenport, Steve Shiel Chris Cooke, Fran Boyle, Frank Abbot, Shane Meadows, Ian Smith, Su Ansell, Tim Smith, Julius Ayodeji
Smalltime (Rosie - the yoga teacher) "24/7" (Sally) "Room for Romeo Brass" (Mrs Brown) All directed by Shane Meadows
The Trick - (Judge) Best Short film - 1996 & favourite of designer Paul Smith.
The Blairwitch Project (Features - Psychiatrist) Pathe Films directed by Rob Green
Innocent Pink" directed by Paul Whittington - Geronimo Films
Control - (mum) directed by Anton Corbjn. Film based on life story of Ian Curtis from 'Joy Division', featuring Samantha Morton & Sam Riley. Control won best British Film BIFA award in 2007. Tanya & daughter Martha played Curtis's mother and sister.
Rock - A Bye-Bye Baby (lead) Collaboration with Film maker Su Ansell produced by Threshold Studios. Poetic feminist film script based on the true story of Betty Kenny, the C18th charcoal burner, who lived together with her family in an old Yew tree; branches serving as cradles for her babies.
Skeletons (Hermione ) written and directed by Nick Whitfield, produced by Pure-grass/ Forward films - Hermione is a closet tango enthusiast) Skeletons' won the Michael Powell Award 2010
Trolley (Jean) - short film written/ directed by Anne- Louise Shelton. A day in the life of Jean's son, Lenny - a lad who works in a supermarket but lives & flies in his imagination/ a fusion of reality/fantasy/ delicate animation.
Oranges and Sunshine (Jean) directed by Jim Loach produced by Sixteen Films. Based on true story - Emily Watson plays Margaret Humphreys the Nottingham Social worker who uncovered an institutionalized scheme of child emigration/abduction between the U.K and Australia - Jean was head of county hall social services who supported Humphrey's investigations.
Hope & Dreams (Shirley) directed by Tim Smith produced by Pam Burrows & Fourmost Films. Shirley is a lesbian care-worker who finds herself dependent due to chronic illness upon institutional state care. Through interviews with Shirley; the film explores institutionalised social stigmatisation, sexual identity equal rights and how to raise awareness in these environments.
Soulmate (Theresa Zellerby) directed by Axelle Carolyn distributed by Stirling Pictures. Grieving, obsessive & unrequited love possess a haunted house
Back to the Garden (Stella) directed by Jon Sanders
The Poison Tree (Joyce) directed by the Turell Brothers, BFI
A Change in the Weather (Beatrice) directed Jon Sanders, Deer Stalker Films
Amaryllis (Bubba) directed by Tom Lawes, Backlight Pictures
A Clever Woman (Phoebe) directed by Jon Sanders ( to be released 2020
TELEVISON
No Bullying Here (Best Children's TV Award)
Numerous leads/ episodes in: Casualty (BBC) The Bill (LWT), Emmerdale (YTV), Heartbeat( YTV) Holby City (BBC), Doctors (BBC)
This is Personal - The Story of the Yorkshire Ripper (YTV) Directed by David Richards
Insiders directed by Danny Hilliers (BBC)
Dr Terribles House of Horrible (Baby Cow) directed by Matt Lipsey
The Marchioness (YTV), directed by Ken Horn.
Silent Witness (BBC) directed by Bruce Goodison.
Mentor/ Teaching: 1986 -2020:
Teacher/ Workshop Leader - Nottingham Trent University Theatre Design & Performing Arts Departments, Physical Theatre - Lincoln University, Creative Partnerships Drama (Arts Council) in Schools, Teaching Acting For Camera (with Ava Hunt) at Broadway Media Centre, Young Writers Momentum Festivals (Arts Council & NottinghamPlayhouse), Bafta Rocliffe (supporting writers & actors in new writing for TV & Film (BFI)
First Light Movie Films: Broken Journey & Photo cyclist: acting advisor with young refuges;
Heat: The street - (narrator) Martin Reiser, OCT professor at De-Montfort University poetic 'docudrama' RMIT Heat Exhibition in Melbourne Australia .
The Billy Richards Project: together with Stephen Lowe, they mentor three young writers for Green Shoots Company to transform recently discovered diaries of Nottingham World War 1 despatch rider, Billy Richards into innovative theatre experience. The Billy Richards Production & Exhibition & Live theatre: www.greenshootswww.greenshootsnottingham.co.uk
Audio Work: See Juanita MacMahon
Tanya is a member of SGI-UK - International Buddhist Lay Organisation committed to creating a peaceful global society based on the teachings of Nichiren Daishonin; through the promotion of humanitarian culture, education and a process known as 'Human Revolution'.
A great human revolution in just a single individual will help achieve a change in the destiny of a nation, and further, can even enable a change in the destiny of all humankind." - President Daisaku Ikeda