'INSIDE OUT OF MIND'
2015 TOUR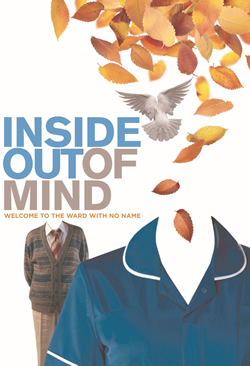 BACKGROUND TO INSIDE OUT OF MIND
In 2011, Professor Justine Schneider and colleagues at the Institute of Mental Health, University of Nottingham, published the results of a study of dementia wards, based on 600,000 words of observational field notes.
From this research material Tanya Myers, co-Artistic Director of Meeting Ground Theatre Company, was commissioned to create a play, which had a successful run of 15 performances at Nottingham Lakeside Arts, University of Nottingham in June 2013.
Following the success of the production, with an Arts Council England Strategic Touring grant Inside Out of Mind will tour nationally in Spring 2015 to: Derby Theatre; Nottingham Lakeside Arts; Gulbenkian Theatre, Canterbury, Warwick Arts Centre; Northcott Theatre, Exeter and Curve, Leicester.
INSIDE OUT OF MIND
Written and directed by Tanya Myers
Designed by Nettie Scriven
Lighting designed by Richard Statham
Digital media design by Barret Hodgson
Original music/sound designed by David Wilson
Welcome to the ward with no name
Welcome to the ward with no name – a theatre of magical, medical realism. A fusion of love stories, crisscrossing time and space, where walls turn into forests; thunder to gunfire; books to birds; with untold stories kept under their wings.
Nurses come, nurses go - carrying, folding, and keeping the continuum of person-centred care and its fragile emotional legacy intact. Before our eyes, nurses transform into patients and patients into nurses.
Mr. P is in pursuit of lost love, haunted by a past trauma - fighters hiding in a forest; a Nazi bullet kills his fiancé, Allouette, the Little Lark. Haunted, Mr. P searches for resolution in the past.
Mr. and Mrs. Bisset arrive. Mrs. Bisset stays. Mr. Bisset leaves. Anna Bisset and fellow pa- tient George, an ex-football player, forge a love affair under the gaze of her husband.
Gertie cleverly weaves staff and fellow patients into her fantasy family.
Darkly comic, and offering glimpses of a mysterious world, this insightful play enters into the experience of dementia care. Touching minds and hearts, nurses and patients search for love, rhyme and reason on the ward with no name. Dancing inside out and outside in, the play moves between multiple realities where time and identity drift apart.
For more information click here.
Co production Meeting Ground Theatre Company and Lakeside Arts Theatre 2013
Nottingham University site on Inside Out of Mind:
Meeting Ground Theatre Company Site for Inside Out of Mind:
The Institute of Mental Health on Inside Out of Mind:
2015 TOUR PERFORMANCE SCHEDULE
DERBY THEATRE
Wednesday 18 – Saturday 21 February
Wed 18 7.30pm with Post show discussion
Thurs 19 & Fri 20 10am & 2.30pm NHS PERFORMANCES with post show discussions Sat 21 7.30 pm
NOTTINGHAM LAKESIDE ARTS
Tuesday 24 – Saturday 28 February
Tue 24 7.30pm
Thu 26 & Fri 27 10am & 2.30pm NHS PERFORMANCES with post show discussions Sat 28 7.30pm
Buy tickets in Nottingham http://www.lakesidearts.org.uk/Drama/ViewEvent.html?e=2813&c=4&d=0
CANTERBURY GULBENKIAN THEATRE
Tuesday 3 – Friday 6 March
Tue 3 7.30pm Post Show Discussion
Wed 4 10am & 2.30pm NHS PERFORMANCES with Post Show Discussions Thu 5 2.30pm NHS PERFORMANCE with Post Show Discussion
Fri 6 2.30pm NHS PERFORMANCE with Post Show Discussions & 7.30pm
Book tickets in Canterbury 3-6th March
WARWICK ARTS CENTRE
Tuesday 10 – Friday 13 March
Tue 10 7.30pm Post Show Discussion
Wed 11 10am & 2.30pm NHS PERFORMANCES with Post Show Discussions Thu 12 2.30pm NHS PERFORMANCE with Post Show Discussion & 7.30pm Fri 13 10.00am NHS PERFORMANCE with Post Show Discussion
Buy tickets in Warwick: http://www.warwickartscentre.co.uk/whats-on/2015/inside-out-of-mind/
EXETER NORTHCOTT THEATRE
Tuesday 17 – Friday 20 March
Tue 17 7.30pm Post Show Discussion
Wed 18 10am & 2.30pm NHS PERFORMANCES with Post Show Discussions Thu 19 2.30pm NHS PERFORMANCE with Post Show Discussion
Fri 20 2.30pm NHS PERFORMANCE with Post Show Discussion & 7.30pm
Buy Tickets in Exeter: http://exeternorthcott.co.uk/151/Inside-Out-Of-Mind/581
LEICESTER CURVE THEATRE
Tuesday 24 – Friday 27 March
Tue 24 7.45pm with Post Show Discussion
Wed 25 10am & 2.30pm NHS PERFORMANCES with Post Show Discussions Thu 26 2.30pm NHS PERFORMANCE with Post Show Discussion & 7.45pm Fri 27 10.00am NHS PERFORMANCE with Post Show Discussion