Born in Stoke on Trent, Tanya grew up in the Sussex Countryside, finally moving to her Mother's favourite Seaside resort - Brighton in her teens. After travelling extensively, she trained in Drama Studies at Aberystwyth University and graduated from Dartington College of Arts with a BA Honours in Theatre Studies in 1983. In 1984 she gave birth to her first Daughter, Lily.
Tanya was politically involved in direct action (1982-85), both at Greenham Common and in London, during which she produced "The Fence" together with Common Ground, which was also published by Methuen in 1985.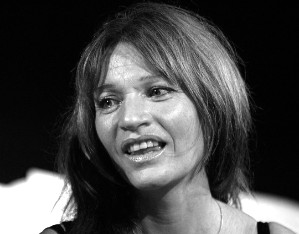 In 1985 she set up Meeting Ground Theatre Company, together with playwright Stephen Lowe based in Nottingham.
Between 1986 and 1994, Tanya produced and acted in all the new writing projects with Meeting Ground. Projects included Strive, Desire, Demon Lovers and Paradise (a musical co-production with the Nottingham Playhouse based upon 2 years of extensive workshopping with national and local participants re-evaluating the Luddite Movement)
She researched and presented Central TV's "City of Women", a documentary on women in the Lace Market with Steve Englehart in 1986.Whilst teaching at Nottingham Trent University in both the Theatre Design and Performing Arts Departments, she went on to work with Tamzin Griffin to produce "Pushing On", a large scale street choreography for pushchairs and wheelchairs and "Dance for the Girls", an exploration of ancestral possession which toured nationally, inspired by their attendance at the 1986 Magdalena workshops.
Tanya became centrally involved in the International Womens Magdalena Project (director Jill Greenhalgh) where she met Zofia Kalinska who continued to Collaborate with Meeting Ground for 10 years. She produced and acted in all the International Productions such as "The Sale of the Demonic Women" (Based on the writings of Witkiewitcz) and Plaisirs D'Amour (The award winning production based upon the story of Abelard and Heloise) touring Poland, Germany and Britain.
Also during 1987-1994, Tanya worked frequently at Derby Playhouse with Annie Castledine on plays: (Betty) in "Touched" by Stephen Lowe, (Lona) in "Sunday's Children" by Gerlind Reinshagen, (Rowena) in "Masterpieces" by Sarah Daniels and "The Tales of Robin Hood" (playing Robin Hood).
In 1993, she played (Phasie) in Crimes of Passion, directed by Pir Broughton at the Nottingham Playhouse and returned to the Magdalena festival, together with her mother (Pearl Myers) and her daughter (Lily) to perform 'Florence' - a tribute to 4 generations of women (see feminist Theatre Practise by Elaine Ashton published by Routledge)
In 1994 she wrote, produced and directed her own play "Falling Angels" with Meeting ground which toured nationally.
In February 1994, she gave birth to her second daughter Martha.
In 1995 she performed in "The Promise" written by Cathy Lesurf (ex- Albion band and Fairport Convention)
In 1997, Tanya married Stephen Lowe at Elvaston Castle, celebrating 18 years of life and friendships.
Over the following 10 years 1995-2005, Tanya worked mostly in film and television, appearing in Shane Meadows films; "Smalltime", "24/7" and "Room for Romeo Brass", in "The Trick"(Best Short film 1996) and the British internet transmission for "The Blairwitch", both directed by Rob Green. Later in 2003 she appeared in the award winning short "Innocent Pink" directed by Paul Whittington. (Thanks to the perseverance of a generation of film pioneers in and around Nottingham, technical/production and script training through Intermedia, and development of the Broadway Media Centre, Nottingham has become an exciting place, to be connected with new film work, or involved in improvisations and development of ideas in their early stages. During these years, training, collaborating with and acting alongside, Dina Smiles, Mark Davenport, Steve Sheils, Chris Cooke, Fran Boyle, Frank Abbot, Roger Knott Fayle, Shane Meadows, Ian Smith, Su Ansell just to name a few, has been refreshing and inspiring)
Her Television appearances include: No Bullying (Central TV) which won the best childrens TV award 1996; The Bill(LWT), Emmerdale (YTV), This is Personal - The Story of the Yorkshire Ripper(YTV)Directed by David Richards, Insiders directed by Danny Hilliers (BBC), Casualty (BBC) directed by Robert del Maestro, Heartbeat(YTV) Holby City(BBC), Doctors(BBC) directed by Christopher Timothy, Dr Terribles House of Horrible (Baby Cow) directed by Matt Lipsey and more recently The Marchioness (YTV), directed by Ken Horn. Silent Witness(BBC) directed by Bruce Goodison
1999-2000, Tanya toured the much acclaimed "Teeth Like Razors" together with Cathy Lesurf and Curt Glanz, based upon the writings of Brecht and Music by Weill and Eisler. Followed by "The Mobius Twist"( 2003) written by Cathy and later "The Difference"(2004) written and devised by Michael Wilson and Curt Glanz. She played Martha in Quarantine at Birmingham Rep, directed by Bill Alexander (2000).
There was a significant shift back to the Theatre in 2003. In response to the developing Meeting Ground/AZ Theatre "War Stories" project - Tanya collaborated with Lily, her eldest daughter, in the making of "Shoes", directed by Tom Wright.; An exploration of young and old suicides with age roles reversed between mother and daughter. These performances mark the continuation of a life time theme of personal work, focusing upon "The Family" in both a literal and metaphorical capacity. ; Also, 2000-2008 proved to be regularly inspired by collaborations with young people and academia; either teaching in academic institutions such as Lincoln University, Nottingham Trent (Theatre Design) and Nottingham University, or for the Arts Council's Creative Partnerships Drama projects in Schools, also teaching 'Acting For camera' at Broadway Media Centre.
In response to 9/11, she launched the 'Story Chair' project into a local Primary school. Children were invited to interact with a chair's mysterious arrival into their playground. Over time, they were encouraged to find it a home inside their school, eventually creating for it, an intimate environment congenial to the sharing of stories between ages, ethnicity and faith. (The project was documented by local film makers and the children themselves).
She supported by reading/performing when working with the Arts Council's, Young Writers 'Momentum' Festivals (2006,07& 08) and in professional productions focusing on young people including; (her own play)- 'Small Waves' directed by Tom Wright, and at Nottingham Playhouse, in Children of the Crown by Nick Wood 2006 and Tom's Midnight Garden, (2008) both directed by Andrew Breakwell.
In 2005, Tanya wrote and performed "Small Waves" together with her youngest daughter, Martha (12yrs) - exploring the question of exile and post trauma depression. Autumn 2005, Stephen Lowe was commissioned by Tangere Arts to write "The Fox", inspired by DH Lawrence. Tanya played Ellie in this Premiere Tour.
In the Spring 2006,Mother and daughter travelled to Canada and performed "Small Waves" at the Methodica Theatre in Vancouver, where the work received a powerful and moving response from an audience familiar with the reality of transmigration and loss.
Later that Summer, both Martha and Tanya were cast in the feature film 'Control' directed by Anton Corbijn. The film based on the life story of Ian Curtis from 'Joy Division', featuring Samantha Morton and Sam Riley. Control Won best British Film BIFA award in 2007. Tanya and Martha played Curtis's mother and sister respectively.
2006 Autumn, She joined Take Art to tour new play by Shiona Morton,'The rain Has Voices', This production launched Somerset's first New Writing Theatre Company and toured throughout villages and towns in Somerset and Dorset with huge success.
At the end of 2005, Anna Furse- artistic director of Athletes of the Heart invited Tanya to collaborate in an exciting European cyberspace improvisation, exploring the legendary Don Juan, an icon of male sexuality . Anna Furse directed Don Juan Who? in Slovenia, as a co-production between her own Company 'Athletes of the Heart' and Mladinsko Theatre Ljubljana (between 2006-2008). TheDon Juan Who? Company joined Anna on this extraordinary project, improvising anonymously, every Sunday evening for one year, in Cyberspace 2006-7. In September 2007, in Ljubljana, 'Don Juan Who?' was performed in 3 languages; Slovene, Italian and English. 'Don Juan Who?' Previewed in the UK at London Shunt Studios October 2007, and Premiered at the FeEast Festival in London, at the Riverside Studios in Nov 2008.
In Spring 2007: Tanya worked on two 'First Light Movie' Films, working as acting advisor with young refuges; "Broken Journey" and "Photo cyclist."
2008 was busy throughout the seasons. Her Audio Books include; The French Gardener by Santa Montifiore and The Alchemist's Daughter. Television included; Casualty (BBC) and Silent Witness. (BBC)
In spring 2008, Tanya played 'Deborah', an ex-war photographer, in SMILE, an emotive, dark comedy/thriller written by Stephen Lowe, directed by Matt Aston which premiered at Lakeside Theatre in Nottingham. SMILE was performed together with Dan Copeland. Stephen Lowe wrote SMILE, inspired by, and as a contribution to, the War Stories Project. (see above)
In June/July 08, Tanya played Mrs Bartholomew, in Tom's Midnight Garden written by Philippa Pearce, at Nottingham Playhouse.
July and August 2008, Film maker Su Ansell asked Tanya to collaborate on her film Rock -A Bye-Bye, to be produced and distributed by Threshold Studios. A dreamscape: the poetic film script is based on the true story of Betty Kenny, the C18th charcoal burner, who lived together with her family in an old Yew tree, whose branches served as cradles for her babies.
In September 2008, Tanya was invited by IOCT professor at De-Montfort University, Martin Rieser, to narrate his poetic 'docu-drama' - 'Heat: The street', as part of the RMIT Heat exhibition in Melbourne Australia .
On returning from Ljubljana in October, 'Don Juan Who?' premiered at Riverside Studios, London November 2008.
In Jan/Feb 2009, 'GLAMOUR', another new play by Stephen Lowe, directed by Bill Alexander opened at Nottingham Playhouse, with Tanya playing Connie Partridge, an ex- girlfriend of the Kray Brothers, hiding out with peripheral gang member, Frank, in a seedy 1960's Arts cinema in Nottingham, the Moulin Rouge. The extraordinary thing about this play, as wild and at times farcical, as it seemed, it was based on true facts! Tanya acted in a pseudo 1960's 'naturalist film' that was incorporated into the play which featured a naked badminton game! Filmed by Roger Knott- Fayle. Like SMILE, GLAMOUR celebrated the fusion of film, cutting edge digital media and theatre, building on creative collaborations with Digital Media Designer, Barratt Hodgson and Roger Knott Fayle.
In April 2009 Tanya played Hermione ( a closet tango enthusiast) in the film "Skeletons" written and directed by Nick Whitfield, produced by Pure-grass/ Forward films - In Aug 2010 'Skeletons' won the Michael Powell Award.
In May 2009, Tanya played Jean in 'Trolley' - a 'short' film -written and directed by Anne- Louise Shelton. The film is a day in the life of Jean's son, Lenny - a lad who works in a supermarket but lives and flies in his imagination. The film is a fusion of reality/fantasy and delicate animation.
In June 09, she played another Jean - this time head of county hall social services - in 'Oranges and Sunshine' the new film directed by Jim Loach produced by Sixteen Films. Emily Watson plays Margaret Humphreys the Nottingham Social worker who uncovered an institutionalized scheme of child emigration/abduction between the U.K and Australia.
Autumn 09: Recorded Books; including the launch of Mills and Boon - 'Heat' genre in the U.K!
In the depths of winter she became 'Nurse Myers' - aide to the salubrious Dr Bren-Dan Dare and his 'The Thrill Laboratory' as part of the Mayhem Film Festival at Broadway Media Centre in Nottingham: A theatrical/scientific live experiment monitoring physiological responses of cinema audience 'patients' as they viewed horror films.
Spring 2010 marked a creative departure: A shift of focus to writing.
For the second year running she supported actors and writers during Bafta- Rocliffe (new writing TV & Film) in the East Midlands.
Sernity and back'; the fears and realities of dementia and the aging process. The play plans production in autumn 2014, with her mother (Pearl Myers), herself and her two daughters (Lily and Martha) as cast.
In July 2010, Tanya collaborated with Norwegian artist Anne-Lise Senseth on her 'Kiss and Waste' - Audio Visual Site specific project, which is touring the North Seas. She contributed a written composition -imaginary letters written between mother/daughter and grand-daughter about issues surrounding death. Anne Lise's work explores inner/outer space, reflecting upon personal; struggles and political transitions in Europe.
Tim Smith, Pam Burrows and Fourmost Films invited Tanya to create a character for their film series: 'Hopes and Dreams'. Tanya created a character called Shirley; a lesbian care-worker who finds herself dependent due to chronic illness upon institutional state care. Through interviews with Shirley; the film explores institutionalized social stigmatization, sexual identity equal rights and how to raise awareness in these environments.
In March 2010, Tanya accepted a commission from the University Research Dept of Nottingham University to write a full length play in response to the university's SDO/222 assignment from the Dept of health : 'inpatient care for people with dementia: implications for person centered practice.' Three researchers have entrusted her with the wealth of their research and asked her to respond to their material by writing a play for the theatre that will connect with a wider audience.
This play is called 'Inside; Out of Mind' ..A co-production between Lakeside Arts Centre and Meeting Ground - the play reached over 2000 care staff and wider public and is currently about to tour Uk 2015
In 2010- Tanya received ACGB Grant to write 'Sail Away' - her new 'rite of passage' play written in collaboration with her Mother. It explores 'a journey to eternity and back'; the fears and realities of dementia and the aging process. The play is currently in research and devlopment phase - 2014
Recent films were SOULMATE directed by Axelle Carolyn 2013 and BACK TO THE GARDEN directed by Jon Sanders 2014
Tanya is a member of SGI-UK, the International Buddhist Lay Organisation committed to creating a peaceful global society based on the teachings of Nichiren Daishonin; through the promotion of humanitarian culture, education and a process known as 'Human Revolution'.
A great human revolution in just a single individual will help achieve a change in the destiny of a nation, and further, can even enable a change in the destiny of all humankind." - President Daisaku Ikeda